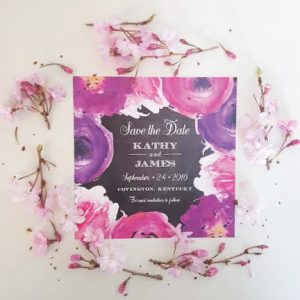 Oh, my gosh, Becky, look at her invitation!
Wouldn't it be awesome to have your guests "wow" over the look of your invitation suite and stationery? Setting a gorgeous tone with soft, colorful blooms that put smiles on everyone's faces?
Big, beautiful flowers are all the rage for wedding invitations in 2017 as well as ceremony and reception decor.  I've really put a lot of thought and research into planning the design of my wedding invitations and, I cannot lie, I am in L-O-V-E, love, with watercolor florals.
Oh baby, I want to get wit'cha, and take your picture!
I'm seeing a trend where brides will plan their invitation designs around the flowers they are using for their weddings, or even vice versa, plan their flowers around the perfect invitation. Let's face it, flowers are a focal point of a wedding, and boy do they add to the beauty of pictures.
As you are thinking about what kind of statement you'd like to make with your invitations, consider watercolor florals and explore the true beauty of using hand painted art. Brush and script typography can complement this nature-inspired look along with brightly colored envelopes or matching liners.
Cheers and Happy Wedding Year!