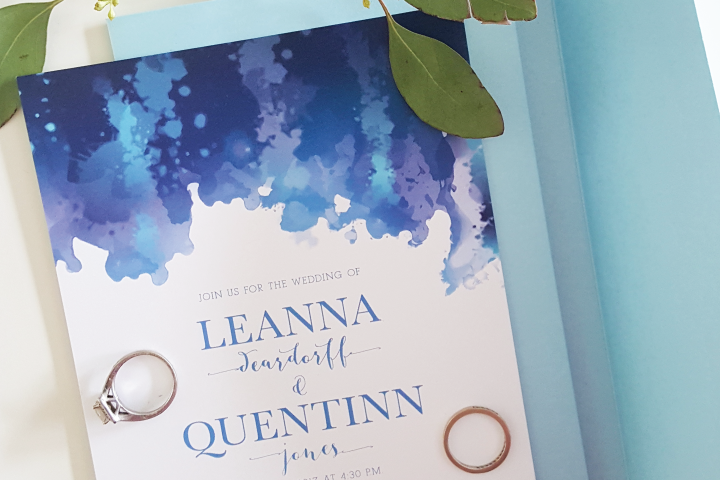 The beauty of watercolor wedding invitations is unsurpassed.  Washes of color appear to be brushed on to fine papers by hand and subtle hues create an air of romance.
Melding our love of flowers with watercolor is one of our favorite things to do. What a brilliant way to tie together your wedding color palette and theme with a nature-inspired look that is surely to impress your guests.
Beautiful deep burgundy blended with cream and pink against a deep grey background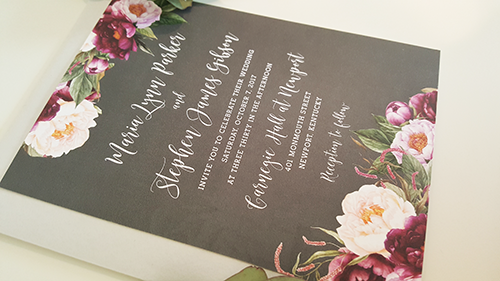 brings in the most popular colors for a fall wedding this year. The mixture of blue, teal and purple are also perfect for a beach or destination wedding or event at a dramatic venue.
Watercolor is extremely versatile and can be painted in a smooth swash for a dramatic effect. Brilliant blue captures one of the hottest colors of the season!
It can be used with any wedding theme – formal, classic, elegant, simple, beach, garden and more.
When planning your unique wedding invitations, consider watercolor to add a special touch. Picturesque watercolor invitations are a gorgeous method to combine your personal style, color and artistic side on your most special day.
We hope you check out our own Signature Watercolor Collection of hand-painted floral artwork!