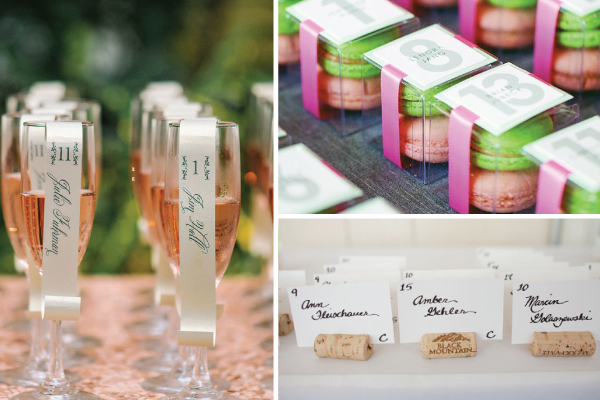 When planning your seating chart and escort or wedding place cards, a little creativity can go a long way with your guests and put a big smile on their faces at the same time. One great idea is to combine your favor with your escort or place cards. Not only will your guests love this, it will save on your budget at the same time.
Draping paper escort slips over a lovely glass of champagne will certainly get the party started right as they walk in the door and prepare for a celebratory toast soon after. No long lines at the bar with this idea! Cute little clear boxes filled with colorful macaroons using your wedding colors can act as an escort card holder by affixing a sticker with name and table number to the top. Or, cut slits in wine bottle corks and slide in the cards for a more elegant theme.
Planning escort cards with your stationer up front will help you organize the seating
arrangement and you'll save your guests from any awkward moments and help guide them to their a seats in a timely manner.
Most people will be expecting a seating assignment and will appreciate the time you took in planning. It may serve disastrous if people are left to their own choosing of tables and people could be left out or standing wondering where to go.
Personal escort cards can be a nice formal way to ensure your guests feel special,  and these edible or drinkable ideas help curb hunger pains for guests when they arrive at your reception.